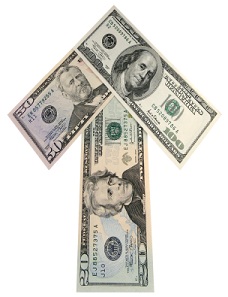 Coach Rick here.
It's been a wild week so far. They say things happen in three's and in a 48 hour period, two of my clients lost three prospects at the end of the design stage. That's 3 million dollars worth of sales due to scope creep. I'm not sure what's going on right now- but I'm seeing the custom home market really get soft in certain areas of the country. So, time to roll up the sleeves and look at what happened and how it can be avoided in the future.
Three Different Scenarios
If you follow a design/build sales process you deal with this daily. Each of your prospects has to go through your design process in order to finalize their pricing, specifications and scope of work. At every turn your customers have the opportunity to add to the original scope of the project- jacking up the price inch by inch. You get to the end of the design process, recap all the architectural and selection changes and BAM!, it hits you like a freight train. Suddenly you're the bad guy and the prospect is belly aching your prices are too high and walks. How did we get here!?
Let's take a look at each one of the scenarios that happened to my clients and what could have been done to avoid losing the sale…
Scenario #1: No Value for the Process
Problem: The first scenario involves a couple with minimal investment in design (Less than $2,000 for a $1,000,000 home, and yes, that's a problem) and who walked due to two factors- Price and they didn't like the architect (at least that's what they told the salesperson). As I read over the detailed email they sent my client I immediately saw the problem. The prospect never saw value in the design/build process. All they were focused on was the product and price. My client never had a chance with these people.
Solution: Increase the barrier to entry with a higher design deposit. The design process is an investment of time and money. These people had no problem putting in the time (and sucking time out of my client) but weren't willing to put in the money. They never believed in the process and kept going back to, 'Builder A will build for less and builder B will build for less. We're not getting enough house for our money.' Keep in mind these people were at a 18% lot-to-home ratio and the pricing was based off their design and specifications. If you're going to get a sale the focus must be shifted from Price and Product to your PROCESS. They have to fall in love with your process and commit to it through dollars and time.
Scenario #2: Can't Make a Decision
Problem: The second scenario involved a husband with the, "Whatever my wife wants within my budget" mentality and a wife that couldn't make or stick with a decision to save her life. These people spent months between two different builders (my client was the second builder they worked with) trying to design a home within their budget. They switched lots, home plans and in the end, went over their budget by about $100k. When they decided they weren't willing to up their budget, they went an bought a spec from another builder.
Solution: Set design expectations and if your client can't meet them, set them free. I could also tell you these people needed a higher barrier to entry too, but let's focus on setting expectations. Most people, not some, should NOT go through the design/build process for a LARGE scale project (in this case a $1,000,000) custom home. When you sit down at the first meeting and review your design process with your prospect it should include the following items:
Finite timeline to complete the design process. What happens when they stay within that timeline and what happens when they do not? Of course the reward of staying on schedule is getting the project completed in a timely manner at the lowest possible cost.
FAQ's about the design/build process. There are probably 8-10 common problems you see on a regular basis. Review those in an FAQ format up front. I think you should try to talk people out of design by clearly telling them the horror stories you and some of your clients have endured because they didn't follow your process. In this case, tell them what happens when they can't make a decision or continually change the design and/or selections.
What exactly does the prospect get and what services do you provide for the design fee/deposit. This seems like common sense but I see it every day. Design time is tracked loosely and it's only brought up when you end up with a problem child. Your prospect should know exactly what they're getting and when extra fees are triggered. Give them regular updates on how much design resources they've used.
Scenario #3: Grocery Shopping When You're Hungry
Problem: The third scenario involved the "perfect" prospect. These people were motivated to get started, stayed within the timeline of the design process and weren't concerned about budget (or at least they didn't show it!). The first red flag happened when my client went to present final pricing and was told by the prospect he was missing several items that were added with the interior designer. After he went back and got all the items included in the final pricing, the prospect was $90k over budget. Two days after presenting the pricing he got an email from the prospect stating they had talked to a local Realtor who told them they if they put their $1,050,000 home on the market immediately after they built it- he would list it for $875k (don't you love Realtors!). After they heard this they went back and tried to reduce the scope of the home but couldn't imagine building their dream home without these design elements. They were cancelling.
Solution: Establish scope trigger points between your architect and interior designer. As a client so eloquently stated to me the other day, "The design process is like grocery shopping when you're hungry. Everything looks good and what could a few extra items cost? Then, when you get up to the register you're blown away by how high the bill is." Your design process is a highly emotional time. It's exciting to see the plan come together and the selections made. At the end, however, every prospect has to logically justify spending the money. When they try to cut back the design elements they fell in love with, they can't imaging building the project without them.
The solution is to help them logically justify throughout the process. You need to have an open and continuous line of communication between your architect and interior designer. Every time your prospect makes a change that is outside of the original scope it should be documented and reported back to you for a preliminary cost estimate. Review these changes ongoing with your prospect and get their approval (electronically) to add them to the plan or specifications. It's much easier to digest budget overages in bite size pieces vs. swallowing an entire Thanksgiving dinner at one sitting!
I hope this helps you avoid any of these scenarios. Needless to say, I'll be revisiting this topic quite a bit over the next few weeks and we'll share any additional ideas we come up with. How about you? What do you do to avoid scope creep? Please share your ideas in my Facebook and Linkedin Groups.
~Rick